Environmental initiatives
Tairiku Trading will contribute to a sustainable global environment.
Legal timber and illegal timber
Problems of illegal logging
Destruction of the natural
environment


and global warming

Forests play an important role in protecting the global environment. Illegal logging is a disorderly and unplanned use of resources and destroys forests. Forest destruction has led to a serious impact on the global environment and has caused various problems such as global warming.

Unfair trading

Unfair trading harms fair trading in the timber market. Illegally logged timber tends to be traded in lower prices. Therefore, timber of business operators that comply with the law and sell at regular prices will not sell well in the market and will be pressured. As a result, fair trading will be reduced and illegal logging will be accelerated.
Tairiku Trading conducts the following countermeasures against illegal logging,
Established the Legal Timber Committee

within the company
Acquired COC Certification of Registration from Forest Stewardship Council, FSC
Acquired verification under the legal timber business operator system
The Committee was established in September 2020. It checks the legality of the wood products handled and conducts enlightenment activities on the prevention of illegal logging. Meetings shall be held regularly to communicate information, check the current situation, and respond to external organisations such as auditing organisations.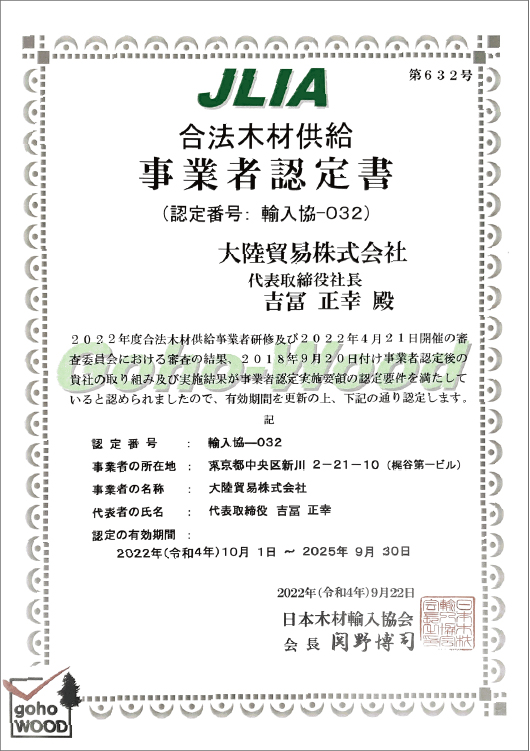 Measures against illegal logging
In order to eradicate illegal logging, laws such as the Act on Promoting Green Procurement and the Clean Wood Act have been enforced in Japan. Tairiku Trading has acquired verification as a business operator for the supply of legal timber under the Act on Promoting Green Procurement and confirms the legality of our products in accordance with the Clean Wood Act.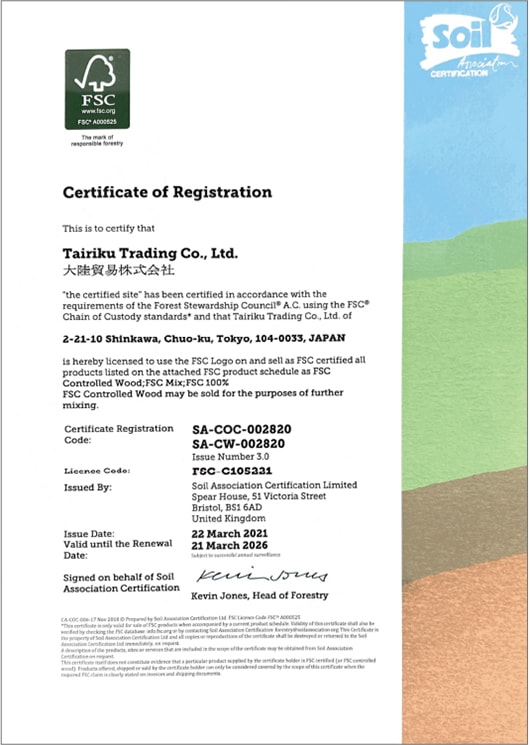 About FSC
The FSC Certificate of Registration is a system for delivering products from well-managed forests that meet environmental, social and economic benefits to consumers in a visible manner, thereby returning economic benefits to producers.
Reference
jp.fsc.org/jp-ja/about_FSC_certificate
Initiatives for SDGs toward
a sustainable society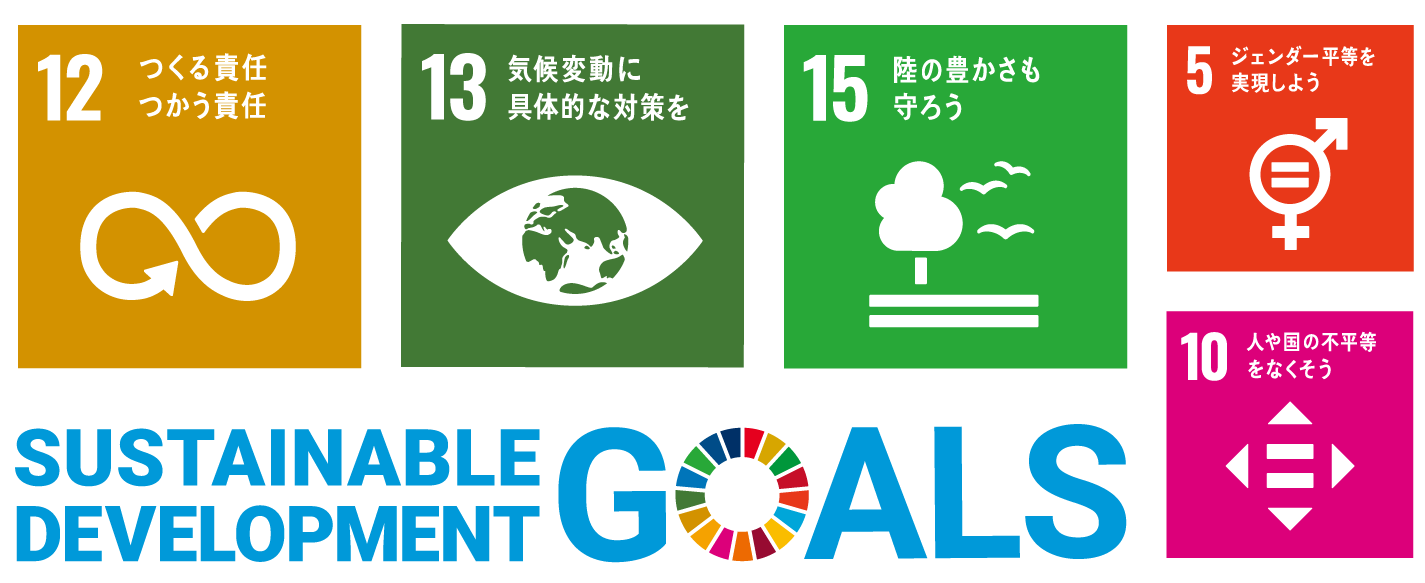 Cutting down trees in a proper way leads to caring forests. By cutting down old trees with less ability to absorb carbon dioxide and allowing young trees of next generation to grow, the forests as a whole increase absorption of carbon dioxide and contributes to stop global warming. Cutting down old trees also protects the safety of forests.

Wooden houses have a variety of advantages. First of all, as mentioned above, wood contributes to the prevention of global warming and low carbon dioxide emission during manufacturing. Wood is also lighter than other materials, and reduces transportation costs. In addition, the warmth of wood provides residents a sense of security and relaxation.
Policy Statement on Core Labour Requirements
In order to comply with the "Core Labour Requirements" set forth by ILO and to protect the human rights of our employees, the Company and its group companies declare the following policies.

1. Prohibition of child labour
We will not allow children to work who do not meet the minimum employment age stipulated by laws and regulations.

2. Prohibition of forced labour
We will not force unfair labour in any form of employment.

3. Elimination of discrimination in occupations and employment
We respect the basic human rights and do not discriminate on the basis of nationality, race, gender, social status, or disability.

4. Respect for the freedom of association and the collective bargaining rights
We respect the rights of employees, including the right to organise and the collective bargaining rights.
1st May 2022
Tairiku Trading Co., Ltd.